Exhibition Introduction
Oyler Wu Collaborative is a Los Angeles-based architecture and design firm founded by Dwayne Oyler and Jenny Wu in 2004. The firm is recognized for its experimentation in fabrication, material research, and design work that challenges the typical vision of the built environment. Dialogues: Oyler Wu Collaborative informing the trajectories of the firm through continued interests in line, surface, and volume. Their collection of work establishes their insistence for hands-on experimentation, which permeates an approach that operates at every scale – from hand drawing to highly-refined jewelry, large scale infrastructural projects to handcrafted artifacts.
Oyler Wu Collaborative believes in the idea that architecture's full potential is born out of its ability to operate simultaneously at multiple scales as an art form, affecting human experience in non-linear ways from dynamic architectural strategies to intimate forms of engagement.
Architect|Oyler Wu Collaborative (Dwayne Oyler、Jenny Wu)
Venue|Jut Art Museum (No.178, Sec. 3, Civic Blvd., Da'an Dist., Taipei City 106, Taiwan)
Opening Hours|TUE-SUN 10:00-18:00 (Closed on Mondays)
Direction|MRT Zhongxiao Xinsheng Station (Exit 4) or Zhongxiao Fuxing Station (Exit 1) 10-minute walk
Admission|General TWD 100, Concessions TWD 80 (Students, seniors aged 65 and above, and groups of 10 or more); Free Admission for the disabled and a companion, children aged 12 and under (Concessions or Free Admission upon presentation of valid proof)
Student Day on WED|Free Admission once on Wednesdays upon presentation of valid student ID
Organizer|Jut Art Museum
Exhibition Team
Creative Concept|Oyler Wu Collaborative
Supervisor|Aaron Y. L. Lee, Alex Y. H. Lee, Huang Shan-Shan
Exhibition Coordinator|Singer Hsu, Chen Yu-Ming, Wei Huang (Jut Art Museum)
Owen Duross (Oyler Wu Collaborative)
Assistant Coordinator|Chou Shu-Yu, Ou Wei-Jie,Chen Ying-Peng (Jut Art Museum)
Andy Magner (Oyler Wu Collaborative)
Communications and Marketing|Chen Szu-An, Chen Yen-Hsiu, Li Yen-Shan, Wang Pei-Yu
Administration|Wang Pei-Yu, Jojo Chang
Public Service|Chang Shu-Yuan, Wu Bing-Chi
Construction Support|Norman Chen, Chen Shih-Yi, Jay Huang, Lu Juyn-Jie
Spatial Designer|Oyler Wu Collaborative
Visual Designer|Rohan Hu
Lighting Designer|Ho Chung-Chang
---
About Oyler Wu Collaborative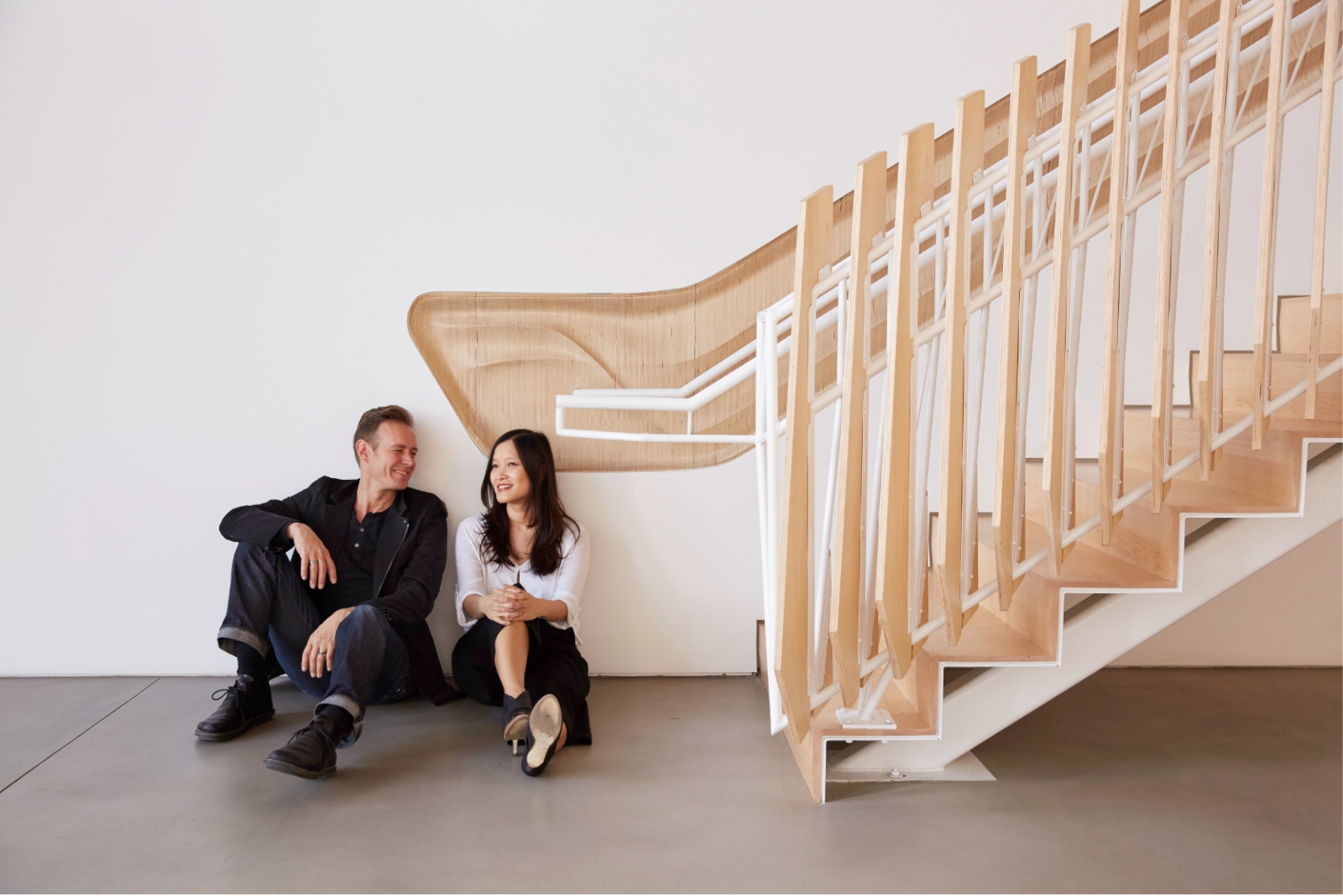 Jenny Wu
Jenny Wu received her BA from Columbia University and M.Arch. from Harvard GSD. Currently, Jenny is the undergraduate thesis coordinator and design faculty at SCI-Arc. In 2014 she founded LACE by Jenny Wu, a line of 3D printed jewelry. Jenny was named one of four design visionaries by Porsche and Dwell Magazine in Powered by Design documentaries.
Dwayne Oyler
Dwayne received his B.Arch. from Kansas State University and M.Arch. from Harvard GSD. Prior to establishing Oyler Wu Collaborative, Dwayne worked for Toshiko Mori Architects and collaborated with Lebbeus Woods on numerous projects. Dwayne has taught architecture studios at Syracuse University, The Research Institute for Experimental Architecture, The Cooper Union, Columbia University, and Harvard GSD. Dwayne currently teaches architecture design studios at SCI-Arc.