"Drawing Ambience" Seminar Series – Session V: Platform – How Museums Curate to Distribute and Integrate Ideas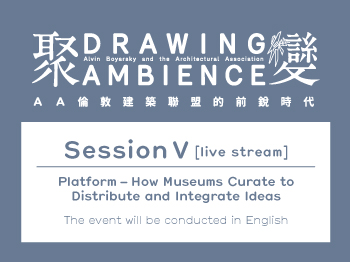 【Session V】 live stream
Platform – How Museums Curate to Distribute and Integrate Ideas
With exhibition, teaching, and publication, Alvin Boyarsky prioritized the art and concept of drawing. Many curatorial programs worldwide have subsequently focused on architectural drawings. As a key platform to engage with the public, museums and their curatorial practices convey ideas, explores issues, and expand their influences. The session invites museum curators from Taiwan, the Netherlands, the US, and Germany to discuss how contemporary curatorial practices drive architectural discourses forward.
Date: 2021.11.26 Fri. 20:00-22:00 (EST 07:00-09:00, CET 13:00-15:00)

Livestream Link: JUT Art Museum Facebook Page

Moderator: C. David Tseng

Panelists: Aric Chen, Christopher Bardt, Oliver Elser

Organizer: JUT Art Museum

Seminar Series Sponsor: Asian Cultural Council Taiwan Foundation

Registration: Free

Reservation: https://reurl.cc/q143rp
This event will be livestreamed on our Facebook page and the live video will be kept on the platform, welcome to join our event online!
Time

Session

20:00-20:10

EST07:00-07:10

CET13:00-13:10

Welcome Remarks and Introduction

20:10-21:10

EST07:10-08:10

CET13:10-14:10

Presentation by Speakers

Christopher Bardt/ Professor of RISD Museum, US

Oliver Elser/ Curator of Deutsches Architekturmuseum, Germany

Aric Chen/ General and Artistic Director of Het Nieuwe Instituut, the Netherlands

21:10-22:00

EST08:10-09:00

CET14:10-15:00

Panel Discussion and Q&A
Participants' Introduction:
C. David Tseng / Exhibition Advisor
C. David Tseng is University Chair Professor of Architecture and Director of Transdisciplinary Design Innovation Shop, National Yang Ming Chiao Tung University (TDIS, NYCU), Taiwan. Under his leadership, Team Unicode NYCU won the 2014 Solar Decathlon Europe in the categories of Urban Design, Innovation and Energy Efficiency, and TDIS represented Taiwan in the 2016 Venice Biennial International Architecture Exhibition. David is currently the executive director of the Agenda for Art and Design Education program of the Ministry of Education, Taiwan.

Additionally, David has served as the Consultant General of the Built Environment to the Mayor for the cities of Taichung and Taipei. His commitment to design excellence helped bring about significant public projects, such as the Taichung Metropolitan Opera House (Toyo Ito), Taipei Performing Art Center (Rem Koolhaas), Taipei Popular Music Center (Reiser and Umemoto) and Taichung Gateway Park (Stan Allen).

David is a practicing architect and the founder of CitiCrafts, an architectural office that received an Emerging Talent award by the Taiwanese Institute of Architects. He holds a Master of Architecture degree from Harvard University's Graduate School of Design. In 2017, the French government honored him with the title Chevalier de L'Ordre des Arts et des Lettres, for his contribution to art, architecture and culture.
Aric Chen / General and Artistic Director of Het Nieuwe Instituut, the Netherlands
Aric Chen is General and Artistic Director of Het Nieuwe Instituut, the Dutch national institute and museum for architecture, design and digital culture in Rotterdam. American-born, Chen previously served as Professor and founding Director of the Curatorial Lab at the College of Design & Innovation at Tongji University in Shanghai; Curatorial Director of the Design Miami fairs in Miami Beach and Basel; Creative Director of Beijing Design Week; and Lead Curator for Design and Architecture at M+, Hong Kong, where he oversaw the formation of that new museum's design and architecture collection and program.

In addition, Chen has curated dozens of museum exhibitions and other projects internationally, served on numerous boards and juries, and acted as advisor to the UABB Shenzhen Biennale of Architecture\Urbanism, London Design Biennial, Cooper-Hewitt Design Triennial (New York), and Gwangju Design Biennale. He is the author of Brazil Modern (Monacelli, 2016), and has been a frequent contributor to The New York Times, Wallpaper*, Architectural Record, and other publications. Chen received his BA in architecture and BA in anthropology from the University of California at Berkeley, and an MA in the history of design from Parsons/Cooper-Hewitt in New York.
Christopher Bardt / Professor of architecture at RISD Museum, US
Founding principal of 3sixØ Architecture and professor of architecture at RISD. Christopher Bardt has over 25 years of experience as an architect and professor of architecture at RISD. He is a founding principal of 3sixØ Architecture, which Architectural Record named one of 10 leading vanguard firms worldwide in 2002. His extensive professional experience includes furniture design, residential, commercial and institutional commissions and planning studies, ranging from small urban interventions to large-scale metropolitan development. His research on the geometry of sunlight, materials, materiality and tectonics as critical to architectural making and thinking has been widely published and exhibited.

He has been a visiting professor at Cornell University, the National Academy of Design and Art, Slovakia and the China Academy of Art and has served on the Board of Governors of the RISD Museum. Bardt holds a BArch from RISD and a MArch from Harvard University.

Bardt is the author of Material and Mind (MIT Press 2019) an exploration of the interaction of mind and one's physical setting, as mediated by language, image, and the process of making. He has also recently completed a book manuscript on the spatiality of space, an extended meditation on the fraught relation between abstract and physical space through history.
Oliver Elser / Curator of Deutsches Architekturmuseum, Germany
Oliver Elser is a curator at the Deutsches Architekturmuseum (DAM) in Frankfurt am Main and was curator of Making Heimat, the German Pavilion at the 2016 Venice Architecture Biennale. He studied architecture at the Technical University in Berlin. 2012-13 he was guest professor for scenography at the Polytechnic in Mainz. At the DAM, Elser curated exhibitions about Brutalism's concrete monsters, the DAM's founding and postmodernism in Frankfurt, architectural models in the 20th century, and the architects Erich Schelling and Simon Ungers.

He has worked as an architecture critic for newspapers and magazines and has written numerous articles for catalogs and books. He is co-author of a book on the role of architecture in Tatort, Germany's most popular crime series. Elser joined forces with the artist Oliver Croy to develop the project "Sondermodelle" that was shown at the Art Biennale in Venice in 2013. In 2019 he was a M+ / Design Trust Research Fellow in Hong Kong.
We reserve the right to change these terms and conditions at any time without prior notice. In the event that any changes are made, the revised terms and conditions shall be posted on this website and our page on Facebook immediately. Welcome to follow us on Facebook to check the latest information.

For further questions, please contact +886-2- 8772-6757 ext.3523/ yachuyu@jutfoundation.org.tw